Travel with no worries and full flexibility.
You can now change or cancel any reservation, up to 72 hours before your arrival day.
Keep calm and book with us now.

Dubrovnik is a Mediterranean city, like no other. It is not possible to walk the Stradun without feeling "that something", its heritage, strength and significance, and not be overwhelmed by this experience, simultaneously in love and blown away by its beauty. The Lapad Peninsula, where the Maestral Hotels are located, just a ten minutes drive to the Old Town, is an ideal holiday location in Dubrovnik as it offers a unique combination of beautiful beaches, numerous amenities, Mediterranean vegetation and peaceful surroundings.
Experience an unforgettable vacation
in one of our five hotels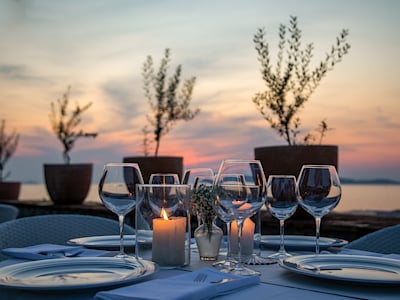 The Ultimate Mediterranean Cuisine Experience
Explore traditional Dalmatian cusine. We offer a rich buffet table or a variety of à la carte dishes for breakfast, lunch or dinner.

For those searching for true gastro moments all our hotels (Komodor, Adriatic, Uvala, Vis and Splendid) provide a complete Mediterranean cuisine experience.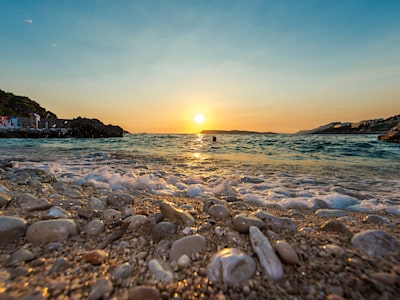 Explore the Diversity of Lapad Beaches
Spend a hot day at one of our hotel beaches; Adriatic (concrete beach), Vis (pebble beach) and Splendid (combination of pebble, sandy and concrete beach). Dive into the crystal, clear, blue sea.

For your complete relaxation, our beaches offer sun beds and parasols at affordable prices. All our beaches feature beach bars where you can look for the refreshemnt break or a light snack.

For those with an adventurous spirit, we recommend numerous sports activities at the Hotel Vis beach.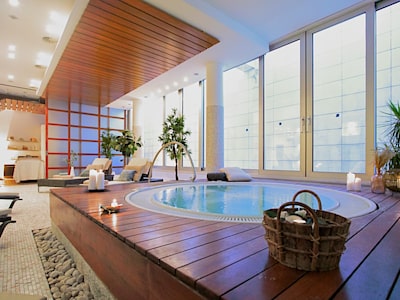 Discover the Secrets of Healthy Living
Divine blend of mild scents, gentle and relaxing tunes, individual approach and specific interior design of the wellness centre will awaken all your senses.

STEAM BATH - FINNISH SAUNA - INFRARED SAUNA – SOLARIUM - SPA ROOM – CARDIO -TRIM ROOM - TWO WHIRLPOOLS - INDOOR AND OUTDOOR SWIMMING POOL - SUN-BATHING DECKS
We offer relaxation and harmonization for your body and mind.
Choose a relaxing massage, one of our many treatments or let our professional staff tailor a program of your complete rejuvenation. (check our SPA MENU).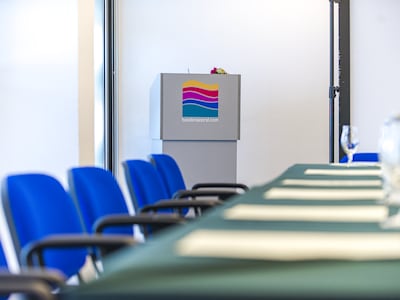 Seminars and Groups
According to the number of participants on a meeting or a seminar, take a look at our meeting room we have in our offer.
Additionally, upon your request, check the prices of the technical equipment, as well as our banquet services.
Meeting Room Perpera is designed to hold smaller meetings, seminars, presentations and workshops (capacity: up to 50 participants, room size: 76.62 m², room length and width: 903 x 747 cm, room height: 280 cm, air conditioning, free Wi-Fi, daylight).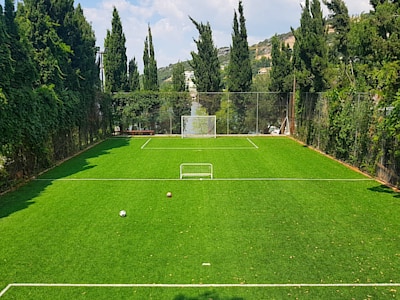 Something for Everyone
There is a walking path nearby, underneath the Forest Park Petka, ideal for exercising or just enjoying your walk while listening to a bird whistle.
For those with adventurous spirit, water sport activities are available at our hotel beaches (kayak, canoe, Jet Ski, scuba diving...).
If you plan to explore the city surrounding, it is possible to rent a car near the hotel. If you are more interested to explore the Adriatic Sea world book a diving activity in the nearby agency.
For relaxing evening hours, we recommend a lovely walk down the promenade along the sea in the Uvala Bay.
Wellness & SPA packages:
Take advantage of our thoughtfully designed wellness & spa packages
Double room accommodation and free use of outdoor and indoor pools, SPA facilities and relaxation area with welcome drink and 10% discount on all additional SPA treatments
Dubrovnik - Heaven on Earth!
Choose the Best for Yourself
Located in the south of Croatia, Dubrovnik is one of the most popular tourist destinations in the Mediterranean - for a reason. Its Old Town, recognized and protected by UNESCO, is a picture of the Mediterranean as it once was, and with its irresistible charm, it is almost frozen in time.

Formerly the capital of the great naval power, the Republic of Dubrovnik, it has been well known to the rest of the world since the 16th century, when its wealth and skillful diplomacy were heard throughout Europe. Today, there are numerous concerts, festivals and exhibitions throughout the year, especially in the summer.
Our recommendation:
Plan ahead to get additional benefits
Take a peek at our special offers and let your experience be a memorable one...